"
God could not be everywhere and therefore he made mothers." ~Jewish Proverb
Now I know a lot of people like to take the mamas in their lives out to eat on Mother's Day. There's nothing like seeing those buffets' parking lots over flowing with starving moms, rambunctious toddlers and cash strapped husbands/fathers/sons. Going out to eat is always a nice gesture and to be honest, I would probably eat out for every meal if I could. But Mother's Day is a little different. I don't know about y'all but my idea of a relaxing Mother's Day is NOT standing in a line with hundreds of other families or waiting for an hour to get a table. Yeah, not having to cook is an awesome thing but is it really worth it? It's not personal and you're probably gonna have to yell over the noise of fellow patrons just to have a conversation with the people at your own table. With all that said, I have come up with an absolutely tantalizing Mother's Day Brunch menu. I love brunch! Nothing says "fancy" like brunch. And since my family is anything but fancy, I like to pretend sometimes that we are. What better day to do that than Mother's Day?In fact, here's a little history on brunch for all you folks who are just dying to know this little piece of useless information.
"Brunch is a meal that is eaten in the late morning or early afternoon, generally between the hours of 10 AM and 2 PM. A typical brunch combines elements of breakfast and lunch, reflecting the fact that it is supposed to serve for both meals. Many people associate it with the weekends, particularly Sundays, perhaps because many people are able to sleep in on the weekends, making a late breakfast and early lunch combination more appealing. Technically, like breakfast, this meal can be served on any day of the week.
The term is a
portmanteau
of "breakfast" and "lunch," and its first appearance was in 1896, in
Punch
magazine. Evidence seems to suggest that brunch originated in the British upper classes. Many upper-class homes gave servants partial or full days off on Sunday, so the staff would lay out a
buffet
spread in the morning that allowed people to graze for breakfast and lunch items.
Punch
originally brought up brunch to lampoon it, and the tradition of making fun of this meal endures to this day in some circles.
Any number of foods can be served at brunch, ranging from traditional breakfast foods like
pancakes
and
sausages
to more lunch-like items, like seafood cocktails. It often features heavy, greasy foods, perhaps because people might be hungover when they consume it, and such foods are treated as hangover cures in some communities. Upscale brunch is often accompanied with mixed drinks like mimosas or bloody Marys, and sometimes
champagne
is served as well."
Source: http://www.wisegeek.org/what-is-brunch.htm
MOTHER'S DAY BRUNCH MENU
Strawberry Shortcake Pancakes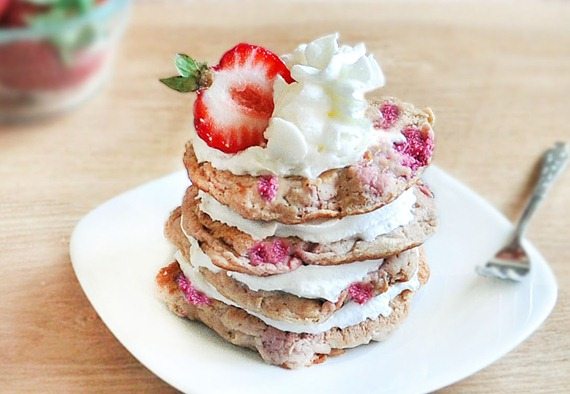 ( I made these for brunch one day and they were fabulous! Definitely a big hit for my kids.)
Bacon, Egg and Toast Cups
Tomato and Fontina Grilled Cheese Sandwich
Spinach Egg and Cheese Strata
Queso Stuffed Bubble Bread
Fruit Platter
Cheese Platter
Coffee
Sweet Tea
Assorted Soft Drinks
Assorted Juice
Mimosas
Bloody Marys
Brunch is a fun experience, especially if it's your first time having it. Plus you can tell all of your friends that you had brunch and sound all fancy and stuff! I also found a couple of ideas on ways to make it even more special:
Flower or Fruit Stuffed Ice Cubes: This will be a beautiful addition to any beverage!
Source: anothermag.com





Here is one of my favorite ways to set up a brunch buffet. If you have a lot of folks coming over, setting up a buffet of sorts is a great idea! The chalkboard in the background is a cute idea and you can write whatever message you want on it.
And remember, as a wise pin off of Pinterest once said, "Brunch without booze is just a sad, late breakfast". That's when the mimosas and bloody marys come in!

I hope you've enjoyed this and I urge you to opt for this way of celebrating Mother's Day. You get to spend more time with the people you love. :)

Don't forget to subscribe to my blog so you never miss one of my posts! Also, I would love for you to vote for me on Top Mommy Blogs! Just click the button in the left side bar. Thanks for stopping by!

~XoXo Jess