"When witches go riding,
and black cats are seen,
the moon laughs and whispers,
'tis near Halloween."
~Author Unknown
I've written a post about throwing a kid Halloween party, so now it's time for the adults to have one! My best friend and I have decided to start having weekly dinner parties. Of course, it's gonna have to wait until I'm moved and settled in, but kicking off my first dinner party with a Halloween theme will be perfect. I will be all moved in and it will be a great way to commemorate my new home. You''ll find below some great recipes and ways to turn your Halloween dinner party into a rip-roaring success!
Yes, the name is less than enticing, but if you're planning on keeping your party classy, this will be a great appetizer to dazzle your guests...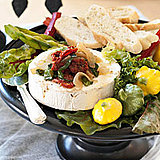 Source: Better Homes and Gardens
Ingredients
3/4 of a 7- to 8-ounce jar oil-packed dried tomatoes
1/2 of a medium onion, sliced and separated into rings
4 teaspoons finely chopped garlic
1/4 cup slivered fresh basil leaves
1/8 teaspoon ground black pepper
2 15-ounce rounds of Brie, with rind
1 tablespoon finely snipped fresh parsley or dried parsley, crushed
French bread slices cut 1/2-inch thick
Directions
Drain oil from tomatoes; reserve 3 tablespoons. Coarsely chop enough tomatoes for 1/2 cup.

In a large skillet, cook onion in 2 tablespoons reserved oil until tender. Stir in garlic; cook and stir for 1 minute.

Add chopped tomatoes and basil; cook for 2 minutes. Remove from heat; stir in pepper.

Line a baking sheet with foil; place Brie on foil. Brush with remaining 1 tablespoon oil. Sprinkle with parsley. Spread tomato mixture over tops. Cover and chill for 30 minutes or up to 5 hours.

Preheat oven to 350 degrees F. Bake Brie on center oven shelf for 12 to 15 minutes or just until edges melt. Transfer Brie to a serving plate. Serve with bread slices.
Serves 20.
Source: yumsugar.com, Better Homes and Gardens
Festive Pumpkin Dip
What's better than serving a dish without using a...dish? Cleanup is nice and easy with this festive dip!
Source: Food.com
Ingredients:
8 ounces reduced-fat cream cheese, softened (you can also use regular)
1/2 cup canned pumpkin
2 tablespoons taco seasoning mix
1/8 teaspoon garlic powder
1/2 cup chopped bell pepper, any color
1 ounce chopped olive (optional)
Directions:
1 Beat together the first four ingredients.
2 Stir in the bell pepper and olives.
3 Chill until serving!
Serve with tortilla chips or pita slices.
Sweet & Spicy Pumpkin Seeds:
I would make a big batch of these and put them in spooky bowls throughout the common area and the kitchen so that guests can help themselves wherever the urge hits them..Make sure you have some little plates and a serving spoon with the bowls so that if some of your guests don't believe in washing their hands after their trip to bathroom, you'll be germ free!
Ingredients:
1 cup pumpkin seeds (from 1 medium pumpkin)
5 tablespoons sugar
1/4 teaspoon salt
1/4 teaspoon ground cumin
1/4 teaspoon ground cinnamon
1/4 ground ginger
1 pinch cayenne pepper, to taste
1 1/2 tablespoons peanut oil
Directions:
1.Preheat oven to 250°F.
2 Remove and wash seeds from pumpkin.
3 Spread seeds on cookie sheet bake for 1 hour stirring occasionally, about one hour.
4 Combine in bowl 3 tablespoons sugar, salt, cumin, cinnamon, ginger, cayenne.
5 Heat peanut oil in large skillet over high heat.
6 Add pumpkin seeds and remaining 2 tablespoons sugar.
7 Cook until sugar melts and seeds caramelize (about 45 seconds).
8 Transfer to bowl with spices and coat well.
9 Let cool.
These will keep for up to one week in an airtight container. And double or triple the batch, depending on how many bowls you plan to set out.
I'm very excited about making these! Spinach and ricotta cheese are an excellent combo and these look great, as well!
Source: marthastewart.com



Ingredients
1 container (15 ounces) part-skim ricotta cheese

Olive-oil, cooking spray

1 bunch fresh spinach (or a 10-ounce bag), stems removed, washed well and dried

1 1/2 cups loosely packed fresh basil leaves (from 1 bunch)

1/4 teaspoon fresh grated nutmeg

Coarse salt and fresh ground pepper

2 large whole eggs, plus 1 egg white

Crackers, for serving
Directions
Wrap ricotta tightly in cheesecloth; place in a colander over a large bowl. Place a heavy object (such as a bowl or canned good) on top; let drain in the refrigerator at least 3 hours (or up to overnight).

Preheat oven to 350 degrees. Coat a 10-inch springform pan with cooking spray. In a food processor, combine drained ricotta, spinach, basil, nutmeg, 1 teaspoon salt, and 1/4 teaspoon pepper. Process until smooth, about 1 minute, scraping sides of bowl as needed. Add whole eggs and egg white; process for 5 seconds. Pour mixture into prepared pan; bake until set and just brown around the edges, 30 to 35 minutes. Let cool completely on a wire rack, then refrigerate, covered, until cold, preferably overnight. To unmold, run a paring knife around edge before removing side of pan.

Cut into quarters. Using a wide spatula, transfer to a cutting board coated with cooking spray. Cut out shapes with a skull-shaped cookie cutte coated with spray (if cutter doesn't come with eyes and a mouth, use aspic cutters to make features). Using a cotton swab, gently press skulls out directly onto crackers (leave eye and nose shapes in cutter).
A tip from Ms. Stewart: Be sure spinach is completely dry. Frozen spinach can be substituted for fresh: cook, drain, and press excess moisture from a colander.
Source: marthastewart.com
Soups:



Ghastly Ghoulash
Source: marthastewart.com





2 pounds stew beef, cut into 1-inch cubes

Coarse salt and freshly ground pepper

2 tablespoons all-purpose flour

1/4 cup vegetable oil

1 medium onion, cut into 1/4-inch dice

3 garlic cloves, minced

1/2 cup dry red wine

1 tablespoon paprika

2 cans (28 ounces each) diced tomatoes

2 cups homemade or low-sodium store-bought beef stock

2 tablespoons tomato paste

2 sprigs fresh oregano, plus extra leaves for garnish

2 carrots, peeled and cut into 1/4-inch rounds

12 ounces Yukon gold potatoes, peeled and cut into 1-inch chunks

4 ounces thick bacon, cut into 1/4-inch pieces

10 ounces small white mushrooms (quartered if large)

1 box (10 ounces) frozen pearl onions, thawed and drained

1 red or green bell pepper, coarsely chopped

Caraway Egg Noodles, for serving
Directions
Toss beef with salt, pepper, and flour in a medium bowl. Heat 2 tablespoons oil in a large stockpot or Dutch oven over medium-high heat until hot. Brown half of beef on all sides, 4 to 6 minutes total. Transfer beef to a plate with a slotted spoon. Repeat with remaining beef and 2 tablespoons oil.

Add onion to fat in pot; cook, stirring occasionally, until just tender, about 3 minutes. Stir in garlic; cook 1 minute. Add wine; cook, stirring up brown bits, until most liquid has evaporated, about 2 minutes.

Return beef to pot. Stir in paprika, tomatoes, stock, tomato paste, and oregano. Season with salt and pepper. Cover; reduce heat. Gently simmer until meat is just tender, about 1 1/2 hours.

Stir in carrots and potatoes; continue to simmer until vegetables and meat are very tender, 20 to 30 minutes.

Meanwhile, cook bacon in a dry large skillet over medium heat until crisp, about 5 minutes. Transfer to paper towels to drain. Add mushrooms, pearl onions, and bell pepper to fat in skillet; cook until vegetables are tender and golden brown, and liquid has mostly evaporated. Add to goulash.

Season goulash with salt and pepper, if necessary. Garnish with bacon pieces and oregano. Serve with caraway egg noodles.
Source: marthastewart.com
Cauldron Curry
I've never had curry before, but this looks like an interesting way to try it for the first time!
Source: marthastewart.com



Ingredients
FOR THE CURRY PASTE

1 tablespoon whole coriander seeds, toasted

2 teaspoons whole cumin seeds, toasted

1 teaspoon whole black peppercorns, toasted

1 teaspoon coarse salt

3 serrano chiles, sliced

1/2 cup fresh cilantro

2 stalks fresh lemongrass, trimmed and chopped (1/2 cup)

8 garlic cloves, minced (1/4 cup)

2 scallions, chopped (1/4 cup)

2 tablespoons chopped peeled fresh ginger

2 tablespoons fresh lime juice

1 tablespoon finely grated lime zest (from 2 limes)

FOR THE STEW

2 ounces spinach (1 cup)

1 can (14 ounces) unsweetened regular coconut milk

1 can (14 ounces) unsweetened light coconut milk

1 medium zucchini, quartered lengthwise and sliced 1 inch thick (21/4 cups)

12 ounces boneless, skinless chicken breasts, cut into 1-inch pieces

12 ounces boneless, skinless chicken thighs, cut into 1-inch pieces

Coarse salt and freshly ground pepper

3/4 cup fresh basil

Serrano chiles, thinly sliced, for garnish

Lime Wedges for Serving

Directions

Make the curry paste: Grind coriander, cumin, peppercorns, and salt with a mortar and pestle, or with the bottom of a heavy skillet. Add remaining ingredients, and grind until a paste forms. (Curry paste can be refrigerated for up to 2 weeks or frozen for up to 3 months.)

Make the stew: Puree 5 tablespoons curry paste, the spinach, and 1 cup regular coconut milk in a blender until smooth. Reserve remaining curry paste for another use.

Bring remaining regular coconut milk and the light coconut milk to a boil in a medium Dutch oven or heavy stockpot. Reduce heat, stir in curry-spinach mixture, and simmer for 5 minutes. Add zucchini, and cook until slightly tender, about 5 minutes. Add chicken, and season with salt and pepper. Cook until zucchini is tender and chicken is cooked through, about 5 minutes. Add basil, and garnish with serrano chiles. Serve with rice and lime wedges.
Source: marthastewart.com



Bat Wing Soup
This really made my mouth water.
Source: tasteof home.com via darksideofthente.com
Ingredients
4 garlic cloves, peeled

2 tablespoons

vegetable oil

4 cans

(14-1/2 ounces each) stewed tomatoes

1/2 cup

heavy whipping cream

6 slices bread, crusts removed

2 tablespoons

butter, softened

2 teaspoons

Italian seasoning
Directions
In a saucepan, saute garlic in oil until tender. In a blender or food processor, process garlic and tomatoes in batches until smooth. Return all to the pan; bring to a boil. Reduce heat to low. Add cream and heat through.
Follow directions to cut bat wings from bread.(To make bat wings, remove crusts from bread. Flatten with a rolling pin. Using a kitchen shears, cut each slice in half diagonally, cutting wavy lines to resemble bat wings.)
Place on an ungreased baking sheet. Spread with butter; sprinkle with Italian seasoning. Bake at 400° for 5-8 minutes or until golden brown, turning once. Add two wings to each bowl of soup. Serve immediately. Yield: 6 servings.

Turn Bread into Bat Wings

To make bat wings, remove crusts from bread. Flatten with a rolling pin. Using kitchen shears cut each slice in half diagonally, cutting wavy lines to resemble bat wings.




Entrees:



Beef in Costume:


Directions

Preparation : Cut top from pumpkin; scrape out seeds and fibers. Simmer in salted water to cover for 20 to 25 min or possibly till almost tender. Drain.

Brown beef and onion. Add in peppers and garlic. Cook one minute. Remove from heat, stir in remaining ingredients. Spoon into pumpkin. Place "lid" on top. Brush pumpkin with oil.

Bake at 350 degrees for 1 hour.

Let stand 10 min.

Cut into edges to serve.

1 package (at least 1 lb) of your favorite sausage links (johnsonvilles, evergood, generic smoked sausage, whatever you like. i used polish sausages, 4 to a pack)
4-5 decent-sized potatoes (i prefer yukon gold or red bliss)
1 small jar banana peppers
1-2 bell peppers, sliced
1 large onion, sliced
3 tbsp olive oil (yes, it has to be OLIVE oil)
salt & pepper
*optional — 2 tsp dried rosemary (bachelors, ignore this. your salt and pepper will be fine. i know that asking you to procure olive oil was already a stretch.)
*optional — 3 tbsp creole seasoning

make it:

spray a large baking pan w/ nonstick spray (make sure there is at least a small "lip" that provides a "side" to the pan, don't use a flat baking sheet.
slice sausages into thin rounds, about 1/5″ thick. if you know how to slice using a "bias" cut, do that. if not, don't worry about it.
cut potatoes into 1/2″ chunks
slice onion and pepper into strips
place all ingredients on baking sheet and drizzle oil over. use your hands to toss everything together in the oil, making sure everything feels coated.
add salt & pepper and spices (if using)
top w/ sliced banana peppers
bake at 400 for about 30-35 min, until potatoes are tender
EAT
Desserts:
Source: parents.com
1 tablespoon pumpkin-pie spice
2 1/2 teaspoons baking soda
1 1/2 cups granulated sugar
1 can (15 ounces) pumpkin puree
Frosting:
1 package (8 ounces) cream cheese, softened
3/4 cup (1-1/2 sticks) unsalted butter, softened
1 box (16 ounces) confectioners' sugar
1 teaspoon vanilla extract
2 tablespoons milk, plus more if Heat oven to 350 degrees F. Line 12 mini cupcake pan indents and 12 regular indents with foil or paper liners. Line 6 jumbo cupcake indents with foil or paper liners. 2. For cupcakes:: In a medium-size bowl, whisk flour, pumpkin pie spice, baking soda, baking powder and salt together until well blended; set aside.
3. Beat sugar, vegetable oil, buttermilk, pumpkin puree and eggs in a large bowl on low speed for 2 minutes or until combined. Add flour mixture and beat for 2 more minutes or until just combined.
4. Divide among liners, filling each about 2/3 full.
5. Bake at 350 degrees F for about 12 minutes for the minis, 18 minutes for the regulars and 26 minutes for the jumbos, or until a toothpick inserted in the center comes out clean. Transfer to a wire rack and cool completely.
6. For frosting:: Beat cream cheese and butter in a large bowl on high for 3 minutes or until light and fluffy. Gradually add the confectioners' sugar, vanilla and milk and beat until smooth and a good spreading consistency, 2 minutes. Add an additional tablespoon of milk if mixture is too thick.
7. Divide the frosting into two bowls and tint to different shades of orange with food coloring. Mound the frosting on top of cupcakes and make rounded. Roll the entire cupcake in the sugar to coat or roll just edges in sugar, alternating between fine and coarse sugars as desired. To make indentations, press a wooden skewer on top of the sugared cupcake. Add pretzel sticks or rods as stems.
Pumpkin Fudge
Source: southernliving.com
Ingredients
3 cups

sugar

3/4 cup

melted butter

2/3 cup

evaporated milk

1/2 cup

canned pumpkin

2 tablespoons

corn syrup

1 teaspoon

pumpkin pie spice

1

(12-ounce) package white chocolate morsels

1

(7-ounce) jar marshmallow crème

1 cup

chopped pecans, toasted

1 teaspoon

vanilla extract
Preparation
Stir together first 6 ingredients in a 3 1/2-quart saucepan over medium-high heat, and cook, stirring constantly, until mixture comes to a boil. Cook, stirring constantly, until a candy thermometer registers 234° (soft-ball stage) or for about 12 minutes.

Remove pan from heat; stir in remaining ingredients until well blended. Pour into a greased aluminum foil-lined 9-inch square pan. Let stand 2 hours or until completely cool; cut fudge into squares.

Notes: Line pan with aluminum foil before you begin to cook the fudge. Once the candy thermometer reaches 234° and the remaining ingredients are added, quickly spoon the fudge into the pan.
Candy Corn Chocolate Cake
I am one of those rare people who absolutely DESPISE candy corn, but if it's in the shape of a cake, I'm all fot it!
Source: southernliving.com
Ingredients
2 cups

sugar

2 cups

all-purpose flour

$

1 cup

cocoa

1 cup

vegetable oil

1 teaspoon

salt

2

large eggs

$

1 cup

buttermilk

1 cup

hot water

2 teaspoons

baking soda

2 teaspoons

vanilla extract
Preparation
Beat first 6 ingredients in a large bowl at medium speed with an electric mixer until blended. Stir in buttermilk.

Stir together 1 cup hot water and baking soda; stir into batter. Stir in vanilla. Pour into 2 greased and floured 9-inch round cakepans.

Bake at 350° for 30 to 40 minutes or until a wooden pick inserted in center comes out clean. Cool in pans on wire racks 10 minutes; remove from pans, and cool completely on wire racks.

Freeze layers 30 minutes. Cut each layer into 8 wedges.

Pipe frosting on top and sides of cake wedges to resemble candy corn. Using a medium star tip, pipe white frosting on the small end of each cake, yellow frosting on center, and orange on wide end.
Ingredients
6

apples

Food-safe branches, such as magnolia twigs, or craft sticks

1

(14-oz.) package caramels

1 tablespoon

vanilla extract

1 tablespoon

water

Crushed peanut brittle or toasted pecans
Preparation
Remove the stems from apples, and insert food-safe branches or craft sticks. Microwave caramels, vanilla extract, and water until melted, stirring every 30 seconds. Quickly dip or drizzle apples with caramel mixture; roll or sprinkle with crushed peanut brittle or toasted pecans, if desired. Stand apples on lightly greased wax paper, and chill 15 minutes before serving.
Now for the even more fun part...tablescaping!
Elegant Halloween Tablescape:
If your going for elegant, here's a good way to go. I love the use of the mercury glass pumpkins but you can create something similar with the use of "looking glass"paint. Krylon Looking Glass Paint
Just spray it on some pumpkins you can get from the Dollar Tree or even on some real ones.
Source: betweennapsontheporch.net
Click below for tips on how to create this lovely tablescape...
Elegant Halloween Tablescape
Fun Halloween Tablescapes:
If you're planning on throwing a kookier kind of gala, these tablescapes are just what you need. They still look adult-ish without looking to silly...
Source: itsoverflowing.com



Fun Tablescape Ideas
Wicked Tablescape:
This is one of my favorites to really get guests in the "witching" mood!
Source: http://partypinching.com/



Wicked Tablescape Ideas
Deranged Halloween Centerpiece:
Source: marthastewart.com





How to create this beautifully spooky piece
Eerie Candlestick Display:
Source: marthastewart.com
How to make this eerie piece...
Glittered Pumpkin Centerpiece and Tablescape:
Source: marthastewart.com



I LOVE LOVE LOVE this!
How to create this glittery centerpiece
Pumpkin Trio Centerpiece:
Source: marthastewart.com



How to create this pumpkin trio centerpice
And there ya have it folks! A few of my favorite Halloween inspired foods and decorations to make a dinner party as fabulous as possible. I hope y'all enjoyed this post (after all it only took me 4 hours to create it :) and I really hope these ideas have been inspiring and helpful.
I'd love to hear your own ideas and what y'all have planned for your own Halloween dinner parties! Don't forget to subscribe (via RSS or email) so that you never miss one of my Halloween themed posts. I hope you have as much fun trampling around my blog as I do creating it! Thanks for stopping by!
~XoXo Jess